DigiGlo
Nov 2020
Our paper, "DigiGlo: Exploring the Palm as an Input and Display Mechanism through Digital Gloves", is part of the Proceedings of the Annual Symposium on Computer-Human Interaction in Play (CHI PLAY '20).

The shape and function of the human hand are intimately linked to our interaction with the physical world and sets us apart from our evolutionary ancestors. In the digital age, our hands still represent our main form of interaction. We use our hands to operate keyboards, mice, trackpads, and game controllers.
This modality, however, separates content display and interaction.
In our paper, we present DigiGlo (Digital Gloves), a system designed to evaluate the benefits of a unified hand display and interaction system. We explore this symbiosis in the context of gaming where users control games using hand gestures while the content is displayed on their bare hand. Building on established learning principles, we explore different hand gestures and other specially tailored interactions, through three carefully designed activities and two user studies. From these we show that this is an idea that has the potential to bring more intuitive, enjoyable, and effective gaming and learning experiences, and offer recommendations regarding how to better design such systems.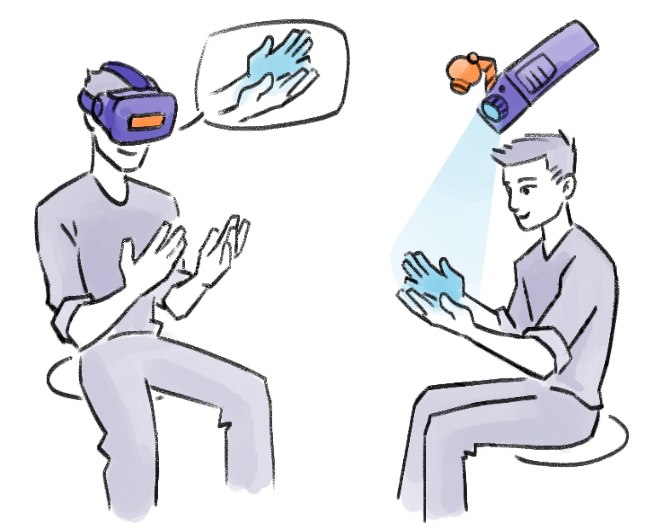 Team
Julia Chatain - Noelle's Ark Implementation, System Design Study, Supervision
Danielle M. Sisserman - Marble Runner Implementation
Lea Reichardt - Space Traveller Implementation, Preliminary User Study
Violaine Fayolle - Graphic Design, Video
Prof. Dr. Robert W. Sumner - Computer Science Supervision
Prof. Dr. Manu Kapur - Learning Sciences Supervision
Dr. Fabio Zünd - Supervision
Dr. Amit Bermano - Supervision
Related Links
Chatain, Julia, Danielle M. Sisserman, Lea Reichardt, Violaine Fayolle, Manu Kapur, Robert W. Sumner, Fabio Zünd, Amit H. Bermano. 2020. DigiGlo: Exploring the Palm as an Input and Display Mechanism through Digital Gloves. In Proceedings of the Annual Symposium on Computer-Human Interaction in Play (CHI PLAY '20), November 2–4, 2020, Virtual Event, Canada. ACM, New York, NY, USA, 12 pages. (link coming soon) (pdf)